During Lockdown
Posted by Judy Lambourne on 23 June 2020
The Society held it's 75th Anniversary last year and is one of the largest and oldest in the area, with around 140 members. Even before the independent body was formed, there was a horticultural section as part of the Village Hall in the 1930's and several flower shows were held before World War II.  
This is what you'll be missing.......the above photo was taken at our 71st Annual Show last July, held in St Peters Hall. Due to Coronavirus this year's Show has been cancelled but normally members will be growing flowers, plants, and vegetables, as well as producing cakes, preserves and art and crafts. Children at the Primary School were also due to submit Art Work again for the 10th year- again, this will be held over to another year.
But what have we been doing during 'lockdown'?  Whilst Monthly Meetings, Annual Dinner, Show and Day Trips have been cancelled due to social distancing, we have all been exploring other ways to fill our time and share our successes. Our annual daffodil competition, which is usually judged at the annual dinner, had to take place by photographs and the winner was Laura Eden.  Members are also sharing photographs of their gardens and plants which you can see on our website at www.BDHS.club.  Many home gardens must be in fine order this year. Instead of travelling to Allotments, some members have grown potatoes in sacks at home- fresh crops and reduced carbon footprint.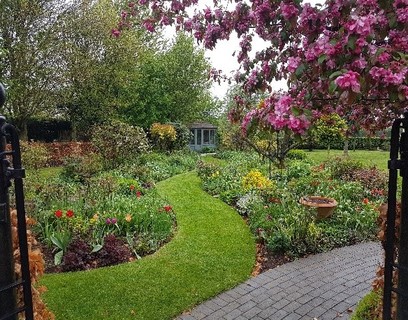 Thanks go to many local Garden Centres who have maintained a home delivery service of compost, grit, seeds etc. With nature unaffected by the virus, we have enjoyed sitting in gardens that have bloomed and where the birds continue to be active.
 As a Society we keep in touch by email and Newsletters, sharing tips etc. and we hope that we can resume our Programme later this year if allowed, and by 'keeping our distances'. We hope to enjoy some form of Summer Outdoor Get-Together, and that the planned holiday to gardens in Cornwall in September can go ahead. We shall have to wait and see......but we shall be back in 2021 with an even bigger and better Show than before.